Affordable Housing Technical Assistance Center (AFHTAC)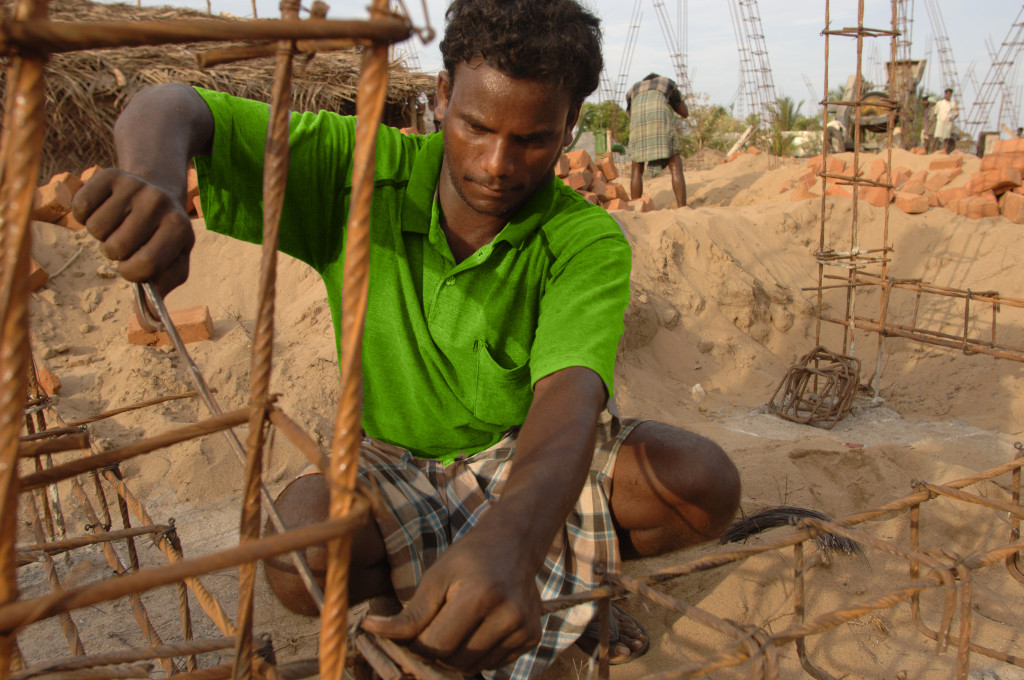 In India, there are 76 millions of urban and rural poor people living without adequate shelter. High cost of land, materials and complicated land tenure issues continue to dampen the efforts and progress of the sector development initiatives.Based on market research and Habitat for Humanity India's experience with MFIs, it is believed that poverty housing can be alleviated through the clients of MFIs who have established a credit history and good repayment. Research proves that safe shelter and better quality homes, improves health, sanitation, education and overall quality of life of the entire family.
In an effort to fill this gap, the Affordable Housing Technical Assistance Center (AFHTAC) was established by Habitat for Humanity India to catalyze and promote housing micro finance sector in India. HMFTAC seeks to mitigate the risks of lending housing microfinance loans by building the capacity of institutions, and thus scale-up Housing Loan process. Habitat instituted a Affordable Housing Technical Assistance Center(AFHTAC) to provide Institutional Technical Assistance (ITA) and Construction Technical Assistance (CTA) to enable MFIs to launch affordable housing microfinance while assisting homeowners to understand the best way to resourcefully improve their homes. The focus of TAC is to build a vibrant Housing Micro Finance (HMF) sector that will transform families and strengthen communities. TAC strengthens MFIs and NGOs internal capabilities to address issues of poverty housing for low income families in India. Housing Support Services (HSS) are offered by AFHTAC through Institutional Technical Assistance(ITA) and Construction Technical Services(CTS). TAC seeks to help MFIs launch affordable housing, while enabling home owners to reduce cost of materials and construction using alternate materials and technology. The services are offered with a reasonable fee, depending on the need and complexity of HSS.
Under Institutional Technical Assistance, following services are provided:
•  Market Research to understand the needs and tailor-make loan products/services.
•  Product Design and Development
•  Training for Loan Officers and Senior Management /staff.
•  Financial Education- bundled with CTS orientation for home owners and Staff
•  Share innovative loan products and support services
Construction Technical Services relate to:
•  Home Owner/Loan Officer training.
•  Design , cost estimate and plans
•  Materials and technology options that will ensure quality, cost reduction and savings.
•  Cost effective home improvement and Incremental/progressive home options
•  Mason training on cost effective materials and technology
•  Supply of technical materials, brochures, catalogues and tool kits to enhance the knowledge of Home owners on construction.
•  Water and Sanitation options
•  Livelihood training to facilitate self-build and cost reduction.
•  Land tenure advice , where needed
•  Establish Beehive centers that serve local housing needs with appropriate technology and materials, available locally- using phones and Internet to link with the knowledge and resource Hub of TAC.
Till date, TAC has served over 4,316 households with technical and financial housing services.
MicroFinance Toolkit
International Finance Corporation (IFC) and the National Housing Bank (NHB) partnered to promote housing microfinance and low cost housing in India. It was noted that low-income groups remain largely unserved by the formal financial system, constituting a large untapped market for financing low-cost and incremental housing.  However, research indicated that microfinance institutions lack exposure to designing housing products for this audience segment and non-banking microfinance companies require capacity building support to diversify into housing as well as access to long-term funding.
In an effort to build the institutional capacity of both microfinance institutions and non-banking microfinance companies, IFC and NHB engaged Habitat for Humanity Affordable Housing Technical Assistance Center (AFHTAC)  to develop an 'India Toolkit for Low Income Housing Finance'. The toolkit will be used primarily by Financial Institutions (both Non-banking Finance Companies or Housing Finance Companies) and NGOs who are currently lending to low income groups for housing or those wanting to scale up their housing finance business targeting this segment. The toolkit comprises several modules including market analysis/entry strategy, legal/regulatory framework, product development, internal systems, customer awareness/staff training for responsible finance and construction support/technical assistance. AFHTAC refined and rolled out HMF toolkit, building awareness and capacity for 40 MFIs/NGOs-MFIs in India, via three events/workshops at Delhi, Kolkata and Chennai.
A condensed version of a 15-minute video produced by Habitat for Humanity India's Affordable Housing Technical Assistance Center. The video is required viewing for people who wish to apply for housing microfinance loans from HFH India's partner organizations. The video was funded under a three-year project supported by USAID.