Take Solutions Masters 2018

Habitat for Humanity and The Asian Tour are proud to invite you for the Take Solutions Masters 2018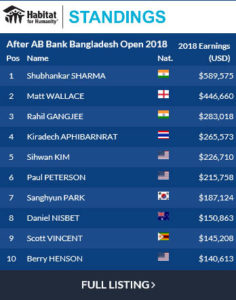 Habitat for Humanity, a global nonprofit housing organization that works with families to build or improve a place they can call home, is now the "Sustainable Development Partner" of the Asian Tour.
In line with the new partnership, the season-long ranking of players has been renamed as Habitat for Humanity Standings.By aligning with the Asian Tour, Habitat will leverage the Asian Tour's global presence to promote its vision of a world where everyone has a decent place to live.
Since 2004, the Asian Tour has developed the sport of golf by providing a path to success and is now the third largest Tour in the world. It has a diverse and committed membership rooted in Asia and a global voice with a potential reach of more than 770 million households thanks to its worldwide television reach, digital media platforms, and traditional press coverage.
The Asian Tour trusts that through this media focused sponsorship, Habitat for Humanity will be able to expand their brand awareness and garner support from the golfing community to help more families increase their access to affordable housing. We are proud to support and share the philosophy that through shelter, we can empower," said Josh Burack, CEO of the Asian Tour.
 Take Solutions Masters 2018
Golf with Habitat for Humanity and win a unique opportunity to play with professional Golfers at the Take Solutions Masters 2018 Pro-Am.
Dates: 7th August 2018
Venue: Karnataka Golf Association, Bengaluru
Habitat for Humanity India Thanks its Partner
About Habitat for Humanity
Driven by the vision that everyone needs a decent place to live, Habitat for Humanity began in 1976 as a grassroots effort. The housing organization has since grown to become a leading global nonprofit working in more than 70 countries. In India since 1983, Habitat for Humanity has supported more than 1.6 million people to build or improve a place they can call home. Through financial support, volunteering or adding a voice to support affordable housing, everyone can help families achieve the strength, stability and self-reliance they need to build better lives for themselves. Through shelter, we empower.
About Asian Tour
As the official sanctioning body for professional golf in Asia, the Asian Tour leads the development of golf across the region, enhancing the careers of its members while maintaining a commitment to the integrity of the game. The Asian Tour, through its membership of the International Federation of PGA Tours, is the only recognised pan-Asian professional golf tour in Asia. This unique feature positions the Asian Tour at the pinnacle of professional golf in Asia; providing its events with Official World Ranking status. Tour Partners include Rolex (Official Timekeeper), Panasonic (Official Consumer Electronics), ECCO (Official Footwear Sponsor), Titleist (Official Web Partner), Bloomberg TV (Official International Media Partner), Bloomberg Businessweek Chinese (Official International Media Partner), Wall Street Journal (Official International Media Partner) and Sentosa in Singapore which is the Home of the Asian Tour which also has an office in Kuala Lumpur.
https://www.asiantour.com/home