Sensitise to Sanitise (S2S) Coalition

Sanitation is one of the most significant development challenges of the 21st century as several people all over the world lack access to adequate sanitation facilities. According to 2015 reports of World Health Organization and UNICEF[1], 2.4 billion people in the world lack access to improved sanitation facilities. 594 million people in India defecate in the open, making the country no.1 in open defecation. In India alone 1,600 children die every single day before reaching their fifth birthday; 24% of girls drop out of school and more than 30% of marginalized women are assaulted every year as lack of basic sanitation facilities force them to travel long distances to meet their needs.
About the Sensitise to Sanitise (S2S) Coalition
In order to address all elements associated to sanitation, Habitat for Humanity India has initiated the S2S Coalition. Its mandate includes:
To deliberate and find ways to leverage resources
To work together in the areas of sanitation, hygiene, access to water and waste management
To work towards enhancing the well-being of marginalized communities through providing access to sanitation facilities and making India open defecation free district by district
This is a coalition of nationwide institutions with complementing skills and capabilities encompassing practitioners, technology providers, research agencies, donors and funding agencies, micro finance companies and international NGOs coming together to address the eco system of sanitation and seeking to systematically work on projects towards achieving ODF districts in the country.
 Objectives of the Coalition
Strategy: To collectively set goals, targets and priorities to draw up a roadmap to make 100 districts open defecation free (ODF).
Partnerships: To actively build partnerships and work with the Government of India to achieve national sanitation goals.
Advocacy: Engaging multiple stakeholders through networking and creating platforms for policy implementation and change.
Implementation: Planning and implementation of total sanitation projects.
Knowledge sharing: Offer knowledge sharing platforms for exchanging ideas on technologies, innovations and awareness building.
Fundraising: Enable joint fundraising initiatives from multiple stakeholders like corporates, high net worth individuals, foundations etc.
Sensitise to Sanitise (S2S) Verticals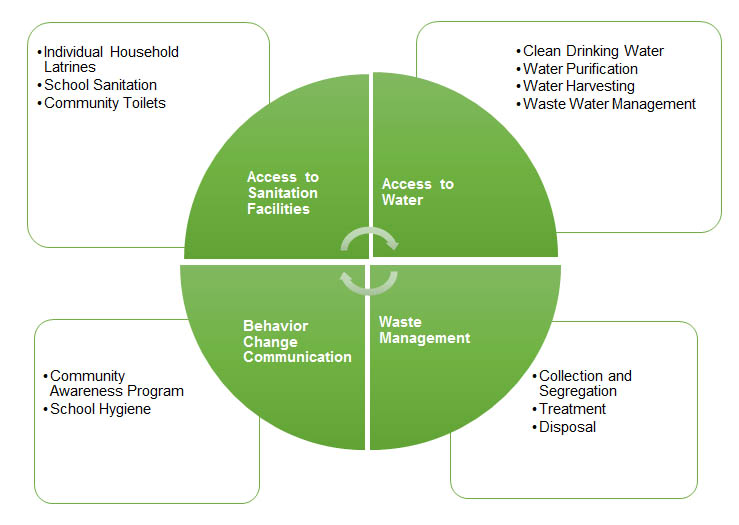 The S2S Coalition has impacted 93, 95,173 people in the last year from July 2015 to June 2016.
Sensitise to Sanitise Coalition Partners
[1] Progress on Sanitation and Drinking water report, 2015 Update and MDG Assessment by UNICEF and DASRA. Retrieved from http://www.unicef.org/publications/files/Progress_on_Sanitation_and_Drinking_Water_2015_Update_.pdf
---
The Sensitise to Sanitise (S2S) Coalition is happy to share Technical Manual on Construction Do's and Don'ts. This resource manual aims to showcase innovative sanitation infrastructure design and implementation. Click here to download.