IndiaBUILDS Campaign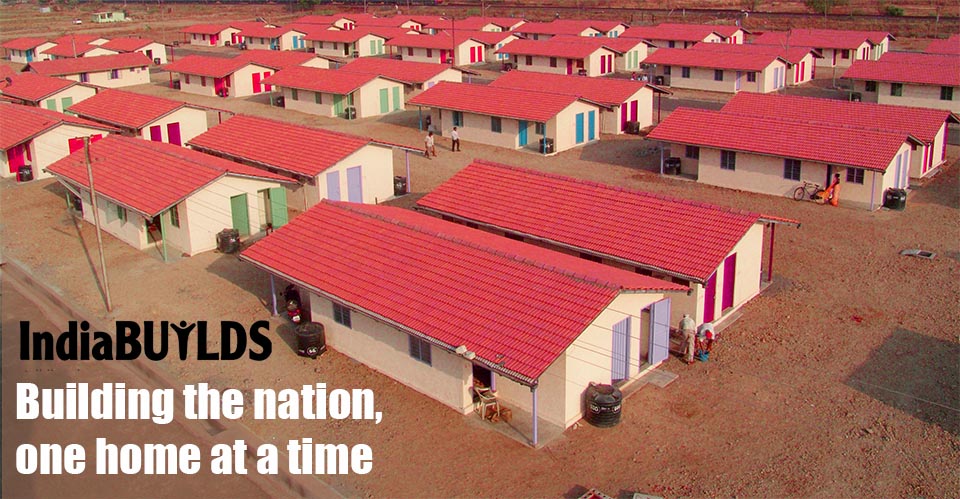 Despite the rapid economic growth and progress made towards achieving most of the Millennium Development Goals, poverty remains a major challenge in India, according to the World Bank. The country faces a housing shortage of 74 million units. Urban housing shortage is estimated at nearly 18 million households in 20121. 80 per cent of the households are living in congested houses. Nearly one million are living in non-serviceable kuchha houses, and over half a million are in homeless conditions.
Habitat India through the IndiaBUILDS campaign aims to change the poverty housing landscape of India by building and improving homes and providing housing related services. After 30 years of work in the country, Habitat has seen how safe and decent homes uplift the socio-economic condition of families, giving them better opportunities for holistic growth. Research indicates decent housing positive impacts health and well-being, child's education and future prospects, family security and stability, and sense of dignity and pride.
Decent Housing Saves Lives: families living in safe and secure homes where walls are strong and the roof is secure are focussed more on thriving than on surviving. Their home rekindles hope, and roots families and communities.
Good Health Starts at Home: Children living in inadequate housing are 10 times more likely to contract meningitis, respiratory problems or asthma. Those living in aging housing are more likely to be exposed to lead-based paint, which can lead to brain damage, impaired physical development and shorter attention span. Overcrowding can cause increased exposure to structural deficiencies and amplifies transmission of infectious diseases like tuberculosis.
Housing Impacts Education: Studies show that children from impoverished environments typically have lower IQs and slower cognitive development than other children. Those living in overcrowded conditions are less likely to graduate from high school, leading to greater likelihood of being impoverished and unemployed as adults.

Vision: To create a movement of IndiaBUILDERS committed to developing Indian communities and upholding housing as the foundation for everyone to live in dignity and hope.
Objectives: The campaign aims to
Uphold housing as the cornerstone of Indian development
Mobilize 100 IndiaBUILDERS who will each provide a social investment of INR 50 lakhs
Accelerate the efforts of Habitat India to meet the housing needs of 100,000 families annually by 2020
IndiaBUILDERS: Is a group of individuals who are strongly committed to build Indian communities by providing a social investment for housing and housing related services that will foster healthy and vibrant community. They are the visionary leaders who will start the movement of eliminating poverty housing, one home at a time. They believe that their social investment is the foundation for families to transform their lives and regain their sense of place and purpose.
Recognitions: Habitat India recognizes the commitment of IndiaBUILDERS through a number of privileges
Organize a local house dedication event
Organize a corporate employee engagement activity of up to 25 volunteer who will work side-by-side with the home partners
Opportunities to meet and work with the IndiaBUILDS Campaign Council headed by Mrs. Rajashree Birla & Mr. Pramit Jhaveri
Special invitations to the annual IndiaBUILDERS night recognizing committed individuals engaged in transforming communities
Promotion of corporate logo in Habitat India website and other communication materials
Joint press release announcing the partnership
Outcome project report including a follow-up home partner story
The India BUILDS Campaign will focus on four priority programs:

Housing Solutions Fund: Directly supports house construction across India, including 60,000 new homes and 40,000 home rehabilitations and repairs (from 2014 – 2020). Habitat houses in India range in size from 20 sq. m. to 33.5 sq. m. Each house usually comprises a living room, kitchen and toilet. In providing decent housing, Habitat India engages in construction of a new house, rehabilitation of unsafe houses, incremental constructions, and home repairs and improvements.
Water and Sanitation Fund: Improves access to clean drinking water, supports construction of sanitation facilities, and provides educational programs on hygiene and sanitation practices. Water and Sanitation projects will be implemented through the Housing Support Services (HSS) program which ensures sustainability by educating and giving technical support to families throughout the building process.
Disaster Response and Risk Reduction Fund: Enhances disaster response, preparedness and mitigation, and secures 6,000 emergency shelter kits for distribution (from 2014 – 2020). Habitat for Humanity through its disaster response initiatives assists communities and families in building their capacity to reduce vulnerability to disasters. Habitat provides housing solutions to enable families to construct disaster-resilient houses thus minimizing the impact of hazards. Disaster response services includes: Provision of emergency shelter and hygiene kits; House repairs and re-construction, and; Facilitation of disaster resilient communities through disaster risk reduction initiatives.
Capacity Building Fund: Expands Habitat's work by investing in staff development and new hires, necessary technology and other operating requirements needed to sustain current programs and to reach the required scale of service that Indian families need.

Click Here to download Auction Brouchure