Hygiene & Sanitation
Disposal of human excreta in a safe, hygienic and scientific manner is integral part of rural sanitation. Habitat India through its partner agencies has implemented rural hygiene and sanitation programmes in several districts of Maharashtra and Gujarat.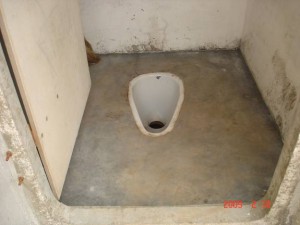 Scarcity of water has been identified as one of the major factors that has impeded the growth of effective implementation of a rural sanitation programme. In light of this fact construction of  pit compost toilets that are eco friendly, technically appropriate, socio-culturally acceptable and economically affordable was undertaken. These toilets consists of a pan with a steep slope of 35 degrees and especially designed trap with 20mm water seal requiring only 1.5-2 litres of water for flushing thus reducing the amount of water usage by 85%.It is connected to a soak pit that varies in size and capacity depending on the number of users. The capacity of each pit is normally designed for 3 years' usage. Both pits are used alternately. When one pit is full, the incoming excreta is diverted into the second pit. In about two years, the sludge gets digested and is almost dry and pathogens free thus safe for handling as manure. Digested sludge is odourless, a good manure and soil conditioner.
Construction of toilets  is simultaneously linked to making people aware of, sanitation standards and the adverse health impacts of unsanitary conditions. The idea is develop the community's habit of using toilets.