Habitat Youth BUILD 2017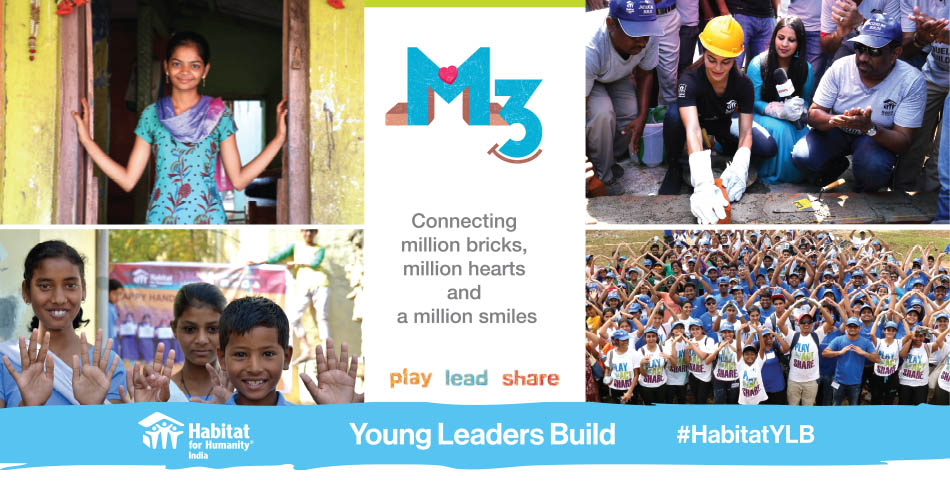 Habitat for Humanity Young Leaders Build (HYLB) 2017 brings together youth across the entire Asia-Pacific region and around the world to support families in need of decent housing. Young people volunteer, fundraise and lend their voices to help families achieve the strength, stability and self-reliance they need to build better lives for themselves. The campaign motivates youth to take the lead in building homes and communities, on a Habitat 'build site' and/or online through their social networks.
Currently in its fifth edition in 2017, HYLB has mobilized more than 1.1 million youth volunteers and participants in India to build homes and communities for thousands of families in need.
Habitat Young Leaders Build was launched on 5th December 2016 on the occasion of 'International Volunteers Day'. This year, we aim to engage more than 2 million young people across the country to build homes, advocate and raise awareness about improved housing and sanitation in their communities.
HYLB is an excellent opportunity to connect to a captured youth audience who are motivated to take action and care about the world. The campaign successfully addresses critical societal problems and offers opportunities for corporates to engage in social responsible action.
Write to us on info@hfhindia.org to volunteer, raise funds and partner with us

At Habitat for Humanity India, we believe that everyone should have access to sanitation, hygiene and safe water at home. Handwashing with soap is an important element of our WASH (Water, Sanitation and Hygiene) programme. It is an extremely effective and affordable method to prevent diseases. It even cuts the risk of diarrhea by 30 %to 50%  Habitat has launched a nation-wide Hand-wash campaign with an aim to impact and educate 2 million people across the country. Spread the word and share our sticker! Let people know that washing hands with soap is the best way to stop germs from spreading.