Habitat School Clubs
Habitat encourages young people to promote creative and responsible ways to support Habitat's mission. Student- or youth-run Habitat clubs organize events to educate their schools and local communities about affordable housing issues and the work of Habitat for Humanity; they raise funds; and also take part in building activities either locally or through Global Village trips.
The Habitat Club
Comprises a group of 15- 20 students interested in bringing about a positive change in the community through

Advocacy and Awareness

Habitat club members organize different type of activities to create awareness within their schools  and communities on poverty housing. These include plays, contests, slum walks, letter writing campaigns, etc.
Fundraising
Habitat club members  organize different type of fundraising activities including bake sales, football matches, Build a home Brick by brick etc.
Participating in the builds
Habitat club members mobilize other non-members to participate in day-long or weekend volunteer builds.
CUP A HOME –
Young donors use innovative methods to raise funds for Habitat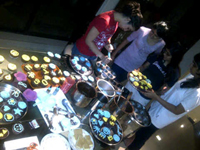 Students of Hill Spring International School hit upon the idea of a bake sale while discussing innovative ways in which they could raise funds for Habitat – and 'Cup a Home' was born. This group of kids demonstrated that age is not a constraint in fundraising. Cupcakes were priced at the cost of bricks in real time and the group sold 240 cup cakes and raised Rs. 10,670!
What was commendable was that none of the girls had ever baked a cake before and learned how to do so entirely from recipe books. In the first batch they made and sold 90 cup cakes and in the next one 150. This was a great example of how young people can come up with creative fundraising ideas, thereby helping to make a difference to the lives of families in need.
Students of Bangalore International school's Habitat Club raised funds to build a home for one low income family through a variety of innovative methods including selling ice-cream cones, baked goods and lanterns.