Global Village Builds
Experience another culture while making a difference in the lives of others
Global Village is Habitat's principal international volunteer program. Global Village offers volunteers the opportunity to take part in the hands-on construction or renovation of houses in some 40 countries around the world, 15 of which are in the Asia-Pacific region.
Teams of 10-25 volunteers travel to their chosen host country to build in partnership with local people, learn about local housing needs and become a part of their host's community.Global Village trips typically last five days to two weeks. Volunteers experience a unique camaraderie and build lasting friendships with fellow team members, and with Habitat homeowner families.
Who can participate:
All who want to make a difference by picking up a hammer and helping to change lives.
There is no maximum age limit.
Many of the trips require strenuous manual labor, so all participants should be in good health.
As a Global Village volunteer, you will:
Work alongside members of the host community to build decent, affordable houses.
Fundraise to build Habitat homes in the country you visit and support the Global Village program.
Advocate for improved housing and quality of life around the world.
Create a true global village of love, community, homes and hope.
 You may work on:
House construction.
Renovations.
Disaster relief.
You can expect to gain:
Unique experiences.
Memories.
Once-in-a-lifetime friendships
 Click here to view a video of Global Village volunteers from St. John's School, Vancouver, Canada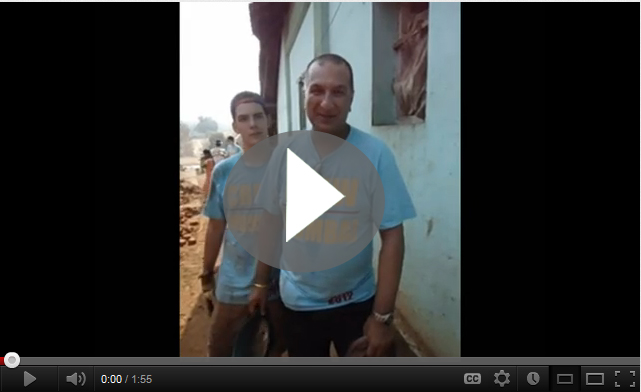 " Arriving at the build site was an experience on its own. The village local boys played drums and women put bhindis on our foreheads as a sign of welcome and good luck. We passed bricks, working alongside the family that would become the owner of the house; their abilities strengthened and motivated ours. They worked barefoot with no gloves, making us realize how much shoes and gloves actually mean to us. The girls aged ten to fourteen carried more bricks than us, that too, on their heads. Watching that made us realize even more why we came here to help".
– Natasha, St. John's School, Vancouver (Volunteer, Global Village)
" Sadly, we had to leave the village. We all packed our stuff and went on the bus. All the friends we made on the village came to wish us goodbye. It was really sad because some of us made strong relationships. I felt sadness but also a sense of achievement. It was proud moment for me because I bonded with village and made a difference. Crew Mumbai had done well for this village. We didn't just build homes but we built a legacy to share for years to come".
– Jaison M., St. John's School, Vancouver (Volunteer, Global Village)

The Global Village Program is a unique travel opportunity for volunteers who want to experience Habitat for Humanity's worldwide mission first-hand. This dynamic video follows teams into such places as Fiji, Nepal, India, Guatemala and Poland, where they build side-by-side with local affiliate members and families experiencing the pride of home ownership for the first time. This video is a great resource for team members who want to get the word out and raise support for their trip.
Trip descriptions and schedules