Events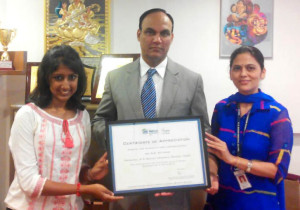 1th October 2014
Richika P (representative of Habitat for Humanity) handing over Certificate of Appreciation to G D Somani Memorial School (ICSE). Seen in the picture are  Mr. B.D. Seymour (Principal) and Ms. Meeni Saran ( Interact Club Coordinator).  G.D. Somani High School raised Rs. 1,76,000 to make 20 sanitation units in Sangli.
Nearly  80% of the rural population in the Sangli / Kolhapur district lacks proper toilets, mainly due to insufficient funds and low awareness among the people. In many habitats, there are no soak pits or drainages, due to which there are incidences of diseases like dengue, viral infections and malaria in the areas. The families selected are from low income rural groups who eke out a living by engaging in activities like farm labour, petty shops, vegetable vending, etc.
---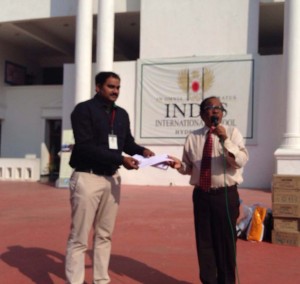 1th October 2014 
Indus school Hyderabad has handed over first tranche of 51,293 for Jammu & Kashmir along with materials like blankets, toothpaste & toothbrush . The school will continue to raise more funds to help in Jammu & Kashmir rehabilitation efforts.
---
 25th September 2014 
Sreenidhi International School, Hyderabad organised "Garba for a cause" on Thursday 25th September in aid of Jammu & Kashmir flood victims for purpose of relief and rehabilitation work.
A cheque of INR 2,00,000/- (Rupees Two lakhs) was handed over to Habitat for Humanity. Habitat for Humanity thanks the school management, Principal, teachers, parents and students for this drive.
---