Responses to Disaster
2011
Cyclone Thane
More than 5,000 people were displaced by Cyclone Thane in Tamil Nadu and PuducherryOn 30th December, 2011 a severe cyclonic storm ravaged the northern coastline of Tamil Nadu. In the aftermath of the cyclone, over 450,000 houses were devastated, about 20,00,000 people were rendered homeless and 58 human lives were lost. Almost the entire tree cover of Cuddalore district was destroyed including entire groves of cashew nut trees and jack fruit trees that were the backbone people's livelihood.
Habitat for Humanity India Disaster Response (DR) Unit was closely monitoring the tropical cyclone movements and sending disaster alerts to HFH Partners working in these coastal districts. HFH India DR staff members along with partner agencies met affected community members and conducted an immediate needs assessment.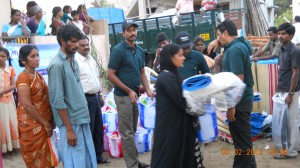 In the first phase of Disater Response, Habitat plans to help 1000 families by distributing Emergency Shelter Kits.  Emergency shelter kits (ESKs) contain items like tarpaulin sheeting, rope, gloves and mats. The kit also contains hygiene items like chlorine powder or tablets, a broom and bucket.
The second phase will include structural intervention (repairs & renovation) for homes partially damaged in the cyclone. Subsequently, Habitat will construct permanent houses for those families who have lost their homes.
Click here to read the full report
2011
Assam Floods
Incessant rains in Assam and the neighbouring states of Arunachal Pradesh and Nagaland from July end till mid-August 2011, wreaked havoc in 1074 villages across 12 districts, killing more than 85 people. More than 4,00,000 hectares of agricultural lands were destroyed posing a severe threat to livelihood and economy of the state. The river Brahmaputra and its subsidiary rivers breached the embankments in 43 places in the state, damaged 17 bridges and disrupted the national high ways and the link roads, bringing a total halt in the transport and communication system for more than 5 days.
Those families whose houses were partially damaged needed shelter materials to repair/upgrade their houses using Emergency Shelter materials. In response, Habitat India distributed emergency shelter kits to 169 affected families in the region.
Click here to read the full report
2010
Leh Disaster
On the 5th and 6th of August 2010, a sudden cloudburst caused unprecedented flash flooding across the remote mountainous region of Ladakh in the far northwest of India. The waters and mud slides surged through the arid Ladakh plateau which sits 3,000m. above sea level sandwiched between the Karakoram mountain range to the north and the Himalayas to the south. The ferocity and scale of the flooding left a trail of devastation in the town of Leh and surrounding villages. Hundreds of people were killed and many more left homeless. More than one year on, recovery and rebuilding work goes on in Leh and Ladakh.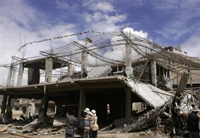 Soon after the disaster, Habitat for Humanity India joined forces with Ladakh Ecological Development Group (LEDeG) to help some of the poorest families to be affected by the floodwaters to rebuild their homes and lives. Together, the two organizations and the families built 24 homes. Most of the families came from Spituk and Palam villages, near Leh. LEDeG, a Ladakh-based non-governmental organization, has been working on issues of environmental sustainability and serving underprivileged communities since 1983. Together, Habitat and LEDeG worked to design and build simple, safe, decent homes with environmentally-sustainable and culturally-appropriate features.
Habitat for Humanity and LEDeG helped marginalized migrant families who had come to Leh from far off villages in Ladakh and beyond. For decades, these families had lived in informal cramped single-room shelters on the outskirts of Spituk village, near the town's airstrip, and right next to the Indus River. Most were low-caste Buddhists from the Bhot tribe. The adults scrapped a living as casual labourers with the army or private contractors. The families and their homes were particularly vulnerable victims of the August floods.
Click here to download the full report (4MB)

2010
HFH India starts rebuilding in flood-stricken Andhra Pradesh
Habitat for Humanity India has started post-flood reconstruction in the southern state of Andhra Pradesh. Under an agreement with the state government, HFH India will build more than 400 new houses for families affected by massive floods which struck Andhra Pradesh last October. By the third quarter of 2010, HFH India expects to have built some 430 new homes with another 400 houses renovated or repaired. The state government has agreed to fund US$653,600 for the new house construction, covering nearly 80 percent of the US$1,850-per-house cost. Each house will have access to electricity, water and sanitation. Under the repairs and renovations project, the cost per house is estimated at US$200 and will be covered by Habitat and its partners. Habitat will also work with local community development organizations – Society for National Integration through Education and Humanizing Action (SNEHA) and Association for Needy and Kindle the Illiterate Through Action (ANKITA) – on the flood response. There will be a repayment component for both new construction and repair projects for the portions funded by Habitat. Repayments will be channeled into a revolving Habitat fund to support other disaster response projects.
2008
Bihar Floods
Side embankment of the Saptakoshi river in Nepal (called Kosi river in India) had a wide breach that caused river shifting its traditional course and bringing unexpected flood in Bihar. This breach has flooded several villages, destroyed crops and flattened houses in its way affecting more than 4 million people. (According to Ministry of Home Affairs, India Sept'08)
Habitat along with the local NGO partner will build 100 new houses, one community Centre and generate livelihood opportunity for 300 people in Jorgama village of Madhepur District.
2005
Maharashtra Floods
Maharashtra experienced one of the worst floods in its history on 26th July '05 with the highest rainfall recorded in 100 years. The torrential rains poured relentlessly, and the resulting floods and landslides took a heavy toll on lives, crops and property.
Mahad
Two years later, the families in Mahad town in the severely affected Raigad district have reason to smile. 78 houses were built by Habitat for Humanity and its partners in Kondivite village and in Rohan village of Mahad. The land was acquired by the state government and granted to the non-governmental organizations (NGOs) that were building homes.
Kalyan
By 2006, Habitat in Kalyan, Mumbai were able to build 112 homes for the flood affected families.  Families who lost their homes when floods hit in the 26th July, Mumbai Floods were back on their feet with the help of volunteers and other partners.
2004
Tsunami
Habitat for Humanity is working in affected coastal communities in the states of Tamil Nadu, Kerala and Andhra Pradesh. The response has included construction of villages to relocate fishing families as well as repairs and renovation of many houses vulnerable to cyclone damage. In most communities, Habitat works in partnership with a local or national nongovernmental organization providing the housing component of a comprehensive community development plan. Habitat for Humanity had built more than 10,000 permanent houses under the Asian Tsunami Reconstruction Initiative by the end of December 2008 in India.
Habitat is committed to building more houses in India, supporting many affected families in getting permanent houses. In addition, thousands more families have been assisted under the community-based disaster mitigation and preparedness program in the tsunami-affected areas
The rebuilding activities have taken on various forms of construction such as repairs, renovations and new housing. In keeping with local building practices, as well as government stipulations, the reconstruction initiative adopted new disaster-resistant construction technologies and methodologies that help mitigate vulnerabilities to future disasters like tsunamis, floods, earthquakes and cyclones.
The people in the affected communities were introduced to new construction technologies and methodologies through the resource centers while producing building materials required for house construction. The training of people in building material production assisted affected families in initiating small construction-related businesses creating new livelihood opportunities in affected communities.
Habitat for Humanity has mobilized an enormous number of local and international volunteers in the reconstruction of affected communities in India. International volunteer teams have traveled from Asia and the Pacific, Europe, and North America, adding more hands to the reconstruction process.
2001
Gujarat Earthquake
In partnership with other organizations, Habitat built homes for families left homeless when an earthquake shook the region in January 2001. The Habitat for Humanity project was completed in 2003 when 664 houses were built in the villages of Sikhra and Khumbariya.
1999
Super Cyclone in Orissa
Nearly 73 houses were built in Cuttack, Orissa in response to the destruction brought by Super Cyclone in 1999.