Habitat India August Updates
 

        
    LATEST NEWS
Re-building the lives of 2,000 families in Uttarakhand
Habitat provides 71 families affected by the Uttarakhand disaster with transitional sheltersHabitat for

Habitat for Humanity India distributed tin sheets to 41 families in Tehri district, whose homes had been destroyed in the Uttarakhand disaster. These tin sheets will enable families to repair those parts of their homes that were damaged due to flooding and landslides. In addition, Habitat provided 30 tents to families in Uttrakashi district, whose homes were washed away. These tents will temporarily shelter families and offer a livable, safe environment till more permanent housing solutions are developed.
"The floods completely destroyed my house and devastated by family. We used to run a dairy business from our home, but after the disaster, we lost our business. We've been living in a community center along with other families from the village, since June, but we have no privacy there. We're grateful for the tent that Habitat has provided us until we are able to re-build our home again. I've started to run a small tea stall from this tent, to earn additional income."
– Govind Singh, Habitat Beneficiary, Uttarakhand Disaster
Bollywood celebrities appeal for Uttarakhand
Zumba Instructors Fundraise for Uttarakhand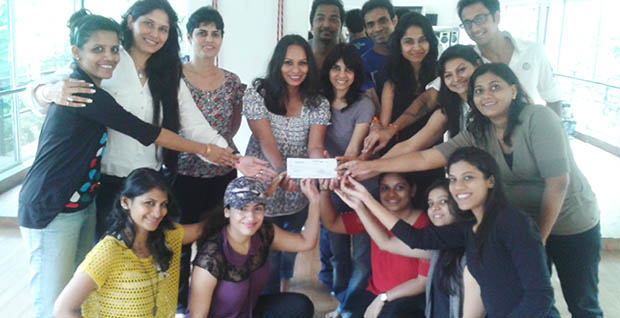 Ruth Gabrie, a marketing agent with Zumba Fitness India, shares why she brought people together to raise funds for families in Uttarakhand.
"My first reaction when I heard about the disaster was of great sadness and I wanted to do something to help make things better. But as an individual I would never be able to do anything significant. Being a Zumba instructor, I knew that the company was all heart. They do a lot of charity all over the world and I knew that if this situation was explained to them with facts and figures they would certainly do wonderful things to help. Zumba did not disappoint and they contributed by supporting all of us Zumba instructors to promote mini Zumbathons and contributing USD 10,000.We chose Habitat to tie up with for the Uttrakhand disaster relief because we got a very insightful and realistic report of what has happened in Uttrakhand so far and also because they have a set plan of action and a realistic target to build homes to help the people who have lost theirs in the disaster. We are very satisfied with the fact that we can see how the money we donate gets utilized and therefore have absolute faith in their system".
48 Families to receive safe and decent homes sponsored by FedEx
FedEx and Habitat celebrated the start of their joint initiative aimed at improving the housing conditions of forty-eight socio-economically marginalized families in the Marathawada Region of Maharashtra. The initiative will support families from Scheduled Tribes, Scheduled Castes and Other Backward communities in Paithan Teshil of Aurangabad district to construct safe, decent and affordable houses.Homes will be built using appropriate local construction technology and housing solutions. Mangalbai Bhaskar Gadekar a project beneficiary from Jambli Village, shared "Currently, I live in a house which is made of tin roof and walls. During the rainy season, there is so much leakage that my house floods with water and then, during the summer it gets so hot that we can't bear to sit inside our home. My kids go to my relatives' houses to study and sleep. I am extremely grateful to both FedEx and Habitat for Humanity for helping to provide a roof over my head".
Assam Flood beneficiary shares the need for shelter in the aftermath of a disaster

Timothy lives with his family in Namdailong village of Assam. Last year, the monsoons brought unprecedented rainfall and flooding, destroying many homes in Timothy's village, including his own. Since then, Timothy and his family have been living in a small, one-room thatched hut that constantly leaked. His children used to frequently fall ill on account of the dampness in their home. "I was in a dilemma", said Timothy. "I didn't know if I should first feed my family, pay school fees, hospital bills or save money to build a new home. We were very helpless and used to wonder where to start. It was at this time that Habitat India offered us money for a home and I was able to build build two rooms with a small kitchen and veranda through this support. We love our new home. It's comfortable and I no longer worry about my children's health".
Rotary 3140 pledges to build 100 homes in partnership with Habitat

Lata G. Subriadu, District Governor, Rotary International District 3140, signed an MOU with Habitat's CEO, Mr. Eric Christopher, to build 100 low-cost homes in Astha and Naroli Pada villages in Thane District. Each home will comprise a room, kitchen, toilet and solar light.
Fashion for a Cause

Vogue's Fashion Night Out, a global celebration of shopping and fashion, was held on September 5th at High Street Phoenix, Mumbai. Taking place across 16 countries this year, and masterminded by VOGUE internationally, leading designer brands came together to offer a very special shopping experience, with unique offers, discounts, personal appearances by celebrities, lucky draw, and one-off activities.The partnership was initiated by Habitat's Women IndiaBUILD's committee and profits from the sales will be donated to families affected by the Uttarakhand disaster.
    FAMILIES SERVED
| | |
| --- | --- |
| | Habitat Served 39 Families in August 2013 |
"All these years, we never had enough savings to send my two children to school. Whatever we saved used to go towards constantly repairing our home, which was in a really poor condition. My husband and I are casual labourers and we don't earn enough to build a new home for our family. After we received a loan from Habitat, we were able to renovate our home and make it safe to live in." – Shobha, Habitat beneficiary, Bangalore
    OUR VOLUNTEERS
204 Volunteers contributed to Habitat's work in August 2013

Twenty-nine year old, USA residents, Kevin Altevogt and Loran Bohall decided to put their passion for cycling to good use. They organized a biking tour of South Asia with the intention of doing good things along the way. Last month they stopped by Habitat India's Delhi office and volunteered to build homes for three days in Bawana.

"For us, it was eye opening to see the living conditions of the people who were living in the community. We have a lot to be thankful for. We were also able to interact with the people, see how the construction process was unique in India, and have a full experience that will stay with us for a lifetime. Also, when we can see first-hand the living conditions, we can begin to understand how people can strive and rise up from difficult situations through hard work and ingenuity. I feel these past three days will stay with me for a long time. When we get the opportunity to see how much people can do with so little, it is inspiring to extend a helping hand whenever possible – even if it is in a little way." – Habitat Volunteers, Kevin Altevogt and Loran Bohall
    Thank You to Our Volunteers and Donors
| | |
| --- | --- |
| | Habitat is grateful to all volunteers from Prudential, Bermuda Overseas Missions, MG University, St. Joseph's PG College and Ecole Mondial, Mumbai who built with us in August 2013. We're also grateful for the generous contributions of CITI, Happiest Minds Technologies, Rotary, DH Consultants Pvt. Limited, Conde Nast India Private Limited, Pfizer, Timken, Quintiles, Applied Materials, DELL, Intuit, Wells Fargo, CISCO, Zumbathon USA, United Way and Thompson Reuters towards Habitat's mission. |
Habitat for Humanity India | 301-A, Everest Chambers, Marol Naka, Andheri Kurla Rd, Andheri (E), Mumbai – 59 | Phone: +91 22 29209851